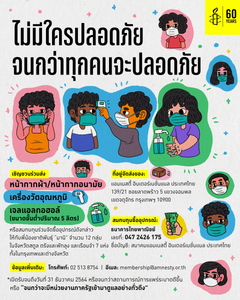 Amnesty Shop Thailand
No one is safe, until everyone is safe
Regular price
300.00 ฿
0.00 ฿
Unit price
per
"No one is safe, until everyone is safe"

We invite you to contribute towards the following efforts: donation of cloth/surgical face masks, thermometer, and hand sanitizer. Alternatively, donate funds to purchase medical equipment for MANI ETHNIC GROUP – more than 500 individuals in Satun, Trang, and Phatthalung province in Thailand – as well as seven prisons in Bangkok and other provinces as followed: 1. Chiang Mai Central Prison 2. Kalasin Provincial Central Prison 3. Central Women Correctional Institution Bangkok 4. Bangkok Special Prison 5. Thonburi Women Correctional Institution Bangkok 6. Thanyaburi Provincial Prison 7. Narathiwat Provincial Central Prison.

Anti-Covid-19 Equipment Delivery Address: Amnesty International Thailand 139/21 Soi Ladprao 5, Chomphon, Chatuchak, Bangkok 10900

Donation for Equipment Purchase: Transfer to Siam Commercial Bank Account Number: 047 2426 175 Account Holder: Amnesty Association International Thailand *as per convenience*

Additional Information: Phone 02 513 8754 or Email to membership@amnesty.or.th

From now till 31 December 2021, or until this matter has taken under government agencies' care.

MANI ETHIC GROUP – Indigenous people living together in small groups between 20 to 30. At present, they live in the forests of the Banthat Mountain within the provinces of Phatthalung, Satun, and Trang. Their way of living has a connection with the forest for a long time. These individuals have no permanent residential address and migrate to the abundance of food sources. The MANI people are paranoid and afraid because they are not aware of COVID-19 due to the lack of information and their inability to read the Thai language. There is no government agency to provide medical care and vaccinations. In addition, they are unable to access the epidemic prevention and remedial measures as the MANI people are stateless individuals without Identification Cards and Thai Citizenships.

Prison – one of the largest clusters due to its crowded area, hence not conducive to safe social distancing. Additionally, there are problems with the healthcare system and welfare. The Department of Corrections revealed that from 1 April 2021 to 22 June 2021, accumulated COVID-19 cases in prisons and correctional institutions in Thailand are more than 35,449, and a total of 33 death cases.

---